2003: Soccer Became My Sport
lunch time was spent on the field.
2004: Intro to the Rural Lifestyle
my family and i would spend more and more time at my grandma's ranch + vineyards, La Casa de Doña Lupe. first taste of an autonomous life.
2006: ANXIETY TICKS
it troubles me to remember that as an 8 year old, i worried so much about my slight overweightness that my mental well-being became unstable. beauty standards somehow forced their way into the mind of a child. max: 0, culture: 1
OCTOBER 2007: MY CRUSH ASKED ME OUT
i kissed a girl and i loved it.
2008: LEARNED TO PLAY GUITAR
i convinced my parents to let me play by performing to them one by metallica on an unplugged guitar hero guitar. young lawyer pushing his demands.
June 2009: Father's Leap of Confidence
from full-time worker to full-time entrepreneur. founded Encuentro Guadalupe. we also moved to San Diego.
JULY 2010 - FEBRUARY 2011: ANXIETY STRIKES BACK
after moving to san diego, i immediately latched to my older cousin's group of friends. when they moved onto middle school, i remained 'alone' in 6th grade. feeling out of place, my anxiety ticks kicked back in. i spent my lunch time doing math.
July 2010: Learned to Surf
it was tough because i was overweight.
JULY 2011: DUAL LANGUAGE IMMERSION CLASS
within the first couple of days of middle school, i met some of my best friends.
SEPTEMBER 2011: MATH TUTOR
after skipping 7th grade math, under the eyes of the people, i became eligible to tutor other students. therefore, as a freelancer, i started tutoring students of all ages in math classes underneath me. capitalizing on my abilities.
NOVEMBER 2011: FIRST BUSINESS VENTURE
sebas came to me with a business idea. we went around knocking on doors pitching our service. we failed to get a single sale. the next day i woke up and all was ok; opposed to what i had been taught by the education system all along, failing wasn't all that bad. hmmm.
SEPTEMBER 2012: ALEXA TOOK MY SHYNESS AWAY
back when my friend alexa and i became each others' priorities, i grew out of my shyness. i began to liberate myself verbally and saw the influence that my words had on others.
OCTOBER 31, 2012: HAUNTED HOUSE
sebas, bull, and i designed and built a community haunted house for halloween. for the first time, i designed an experience for someone else. i loved scaring others, and they loved the thrill as well.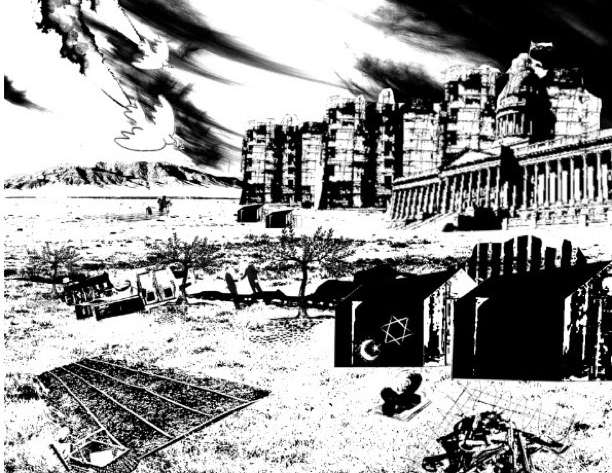 Aug 2013: Ideas stirring up
mr. lopez assigned us to explain the conflict between israel en palestine through the medium of our choice. i chose a photoshop art piece. it sparked conversations.
March 2014:
Launch of Covert Public
my first project born out out passion. photoshop, illustrator, e-commerce, screen printing, and stickers.
bansky, shepard fairy, and charles glaubitz.
April 2014:
Rihanna's Endorsement
my work with Covert Public, as an artivist, was more serious and professional than I had imagined.
May-July 2014:
#WeLoveOurGirls
An activist movement to wrap up the school year.
Aug 2014:
Class President
so a bunch of people voted me to be their class president. not the biggest deal, but undoubtedly reassured me that i had evolved into a community leader.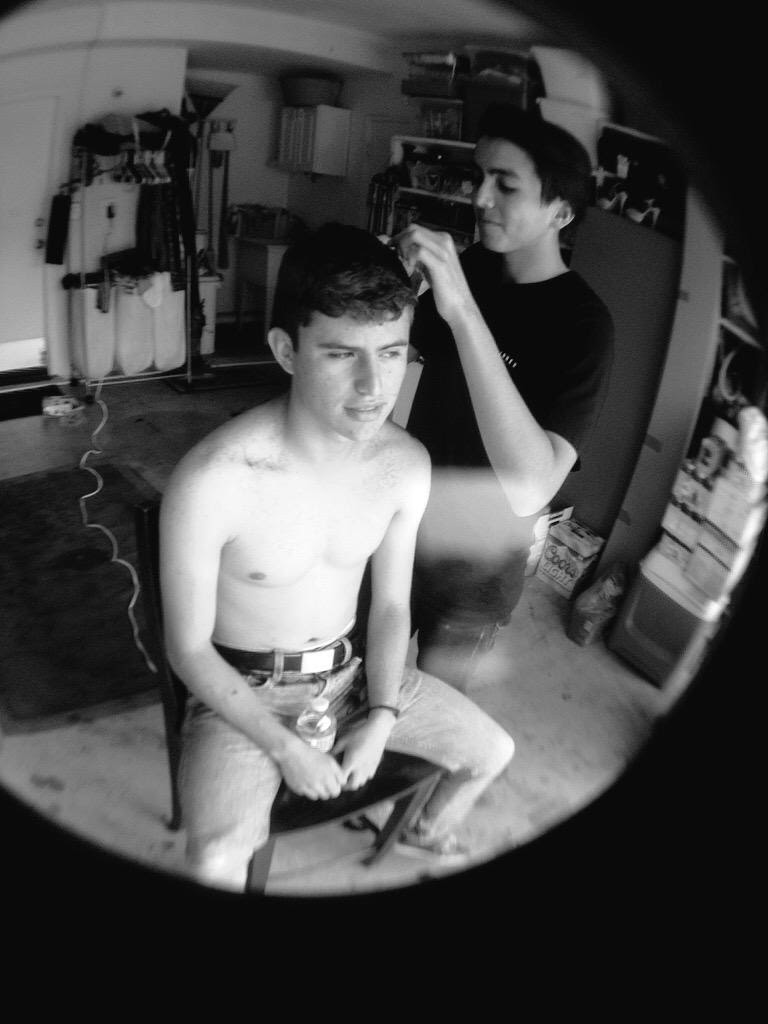 rather than going to a local barber shop and paying $19 for the trim, i grabbed my dog's hair clippers and shaved the sides of my head. maybe delegating simple acts, such as trimming hair, wasn't for my best interest but rather for the interest of the economy. the craftsman within me was inspired.
Sept-Nov 2014: Blue Ribbon Week
crowdfunding, videography, and my peak of altruism. it's rough to work without money. the school-wide week-long assembly in the end was worth it though.
Dec 2014: Altruism and I Part Ways
i was driven by my desire to focus on growing my personal skills in order to depend less of others and enable greatness in my future projects. it's ok to take a step back to let yourself breathe. avoid tunnel vision. i read an abundance of my father's old books. outliers, blue ocean strategy, and made to stick appealed the most to me. began reading my own books. revolution by russell brand had its toll on me. simon sinek's start with why clicked in. so did gladwell's tipping point.
FEB-MARCH 2015: WEB DEVELOPMENT
learned html, css, and python. even though i rarely use them nowadays, knowing how web languages work has its value in my field of work.
APRIL 2015: LEFT EASTLAKE high TO AVOID WORKING AGAINST THE CURRENT
eastlake high school was great to me while it lasted. towards the end of my sophomore year, i grew tired of working against the current to put my work into action at a community level.
because of the unsupportive administration, same routine, unamusing classes, and a desire to expand my network, i committed to leaving eastlake high.
June 2015: First Visit to Otay Lakes
i fell in love with the lake near my home. from this day on, i focused on photography.
JUNE 2015-MARCH 2016: POST-COLONIAL DESIGN
i found it challenging to capitalize on my crafts as a 16 year old freelancer. the quality of my work was undoubtedly industry standard, yet my age set me back. therefore, a first impression of a professional agency helped land a handful of clients.
July 2015: Teenage Theory (film)
after experiencing collaborative creative work, i chose to not work for others.
after months of work on myself and my crafts, i now put them to test. provocative, purposeful art on tees. this time, screen printed by our team with the help of high tech high teacher Mr. Chikle.
Aug 2015: Start at High Tech High
a family of field professionals (teachers) and mentees (students). project based learning (hands-on and focused on serving the community).
Sept 2015-July 2016:
Otay Valley Field Guide
looking closer at the existential cycles of rhyme that the natural world enacts perpetually. consequently, the wildlife started appearing cooler than my classmates. spiritually parted ways with photographing humans and got into wildlife photography. in a way, i was stating my disinterest in the human race and civilization.
NOV 2015: GOODBYE SHAMPOO
through his short informative video, dave hakkens inspired me to drop using shampoo (as it is not essential but more of an addiction to the smell). a small change in my lifestyle invited me to challenge all norms that i was raised by.
NOV 2015: MEDITATING
the app headspace was a great first step into meditating. from there, i began meditating throughout my day and really tuning into my 5 senses. it's awesome and a funky exercise.
Dec 2015-Aug 2016:
RURAL BREWING
my brother and i started brewing out of our kitchen home. we'd sell our brews during the weekends at our family's temporary 'bar' (remodeled chicken coup) in my grandma's vineyards in Valle de Guadalupe. having an audience already quenching beer in mexico's wine county made the business venture irresistible. also, a 16 year old head brewer? who doesn't love that idea? we called it quits (for now) due to my brother's rising OCD. 60 gallons of ale are still 'till this day being stored in 5 kegs within my grandma's industrial fridge.
JAN-APRIL 2016: ROADKILL PROJECT
damn. civilization does suck. too many animals get ran over every day. a means to an end. except that the end is people commuting to a job they don't like. pretty counterintuitive and ridiculous..
March 2016: Live Whale Necropsy
in the a.m., Mr. Nick got a call about the stranding. we rushed to the beach to assist NOAA. she was beautiful.
Apr 14, 2016: Roadkill Project Exhibit
funky smells as we opened up victim mammals during a school-wide festival. loved the controversy it caused.
May 2016: First Embroider
my phone number on a hat. got quite an amount of calls.
May-June 2016: 9010brand Internship
first and only time in a formal workspace. my success in the environment reassured my mastery in graphic communications.
JULY 2016: ALMOST DROPPED OUT OF HIGH SCHOOL
wanted to start my studies at Escuela Libre de Arquitectura. school admin & mentors convinced me to be patient and stay for senior year.
July-Nov 2016: Work with Canelo and Tucanes
freelance work for celebrities added credibility to my brand. an 17 year old without credibility can be tough to sell.
Aug 2016-April 2017: Design of Cal Poly Chula Vista
part of architecture class at HTH. loved the practice of designing experiences. taking my 2D background to 3D. our class-wide thorough design work serves as a project vision for the city of chula vista. in collaboration with Cal Poly SLO's arch.
OCTOBER 2016: ROMANTIC NIHILISM
read endgame vol. 1: the problem of civilization by derrick jensen. many of my feelings felt translated into poetic words.
Nov 2016: First Backpacking Trip
joshua tree national park with the school. 100% nature immersion for more than a day. ignited spending more days out of the month outdoors. in terms of percentages, i was evening out my indoor time with my outdoor.
March 2017: Purchased Screen Printer
i wanted to get my hands dirty (metaphorically). if i print it myself, i control the quality of the print. at the foot of my bed lied my printer, ready for my next idea to spark.
APRIL 2017 - JUNE 2017: NATURE WRKS
inviting individuals on backpacking excursions.
SEPTEMBER 09, 2017: FIRST DAY AT CAL POLY SLO
my high school teacher convinced me to apply to at least one college. i only applied to cal poly slo's architecture program. i got accepted and offered an abundance of grants. i decided that i better take advantage of the grants and went to a traditional college to study architecture, meet some people, and have some fun for a while.
OCTOBER 21, 2017: LAST DAY AT CAL POLY SLO
it was fun while it lasted. time to have more fun elsewhere. began focusing on my retirement plan.
mar. 2018: moved to tijuana
In an effort to root myself more to Tijuana and its wild, dynamic, diverse community of creators, I moved from San Diego to Tijuana,
Food in Northern Baja is extraordinary. The clash of cultures results in awesome taste experiences. I decided to complement my efforts to root myself in the community by starting a food blog.
MAY 2018: INTERN AT GRACIA DESIGN
Javier Gracia, former professor of mine, recruited me for his architecture firm Gracia Design.